Something that I've really gotten into last year was audiobooks. In the middle of 2018, I decided to give Audible a try. I had already began listening to audiobooks through my local library, but there wasn't a large selection of books that I was really interested in. So I figured Audible would allow me to have a larger selection. And let me tell you, I was hooked.
I was getting through so many more books because of audiobooks. I was listening to them while I showered, while I put my laundry away, while I drove to work, while I painted my nails, while I colored. I fell in love with them because of the ability to multitask. I wasn't stuck reading a book on my bed and not doing anything else. It opened up the opportunity to do so much more while I was reading that it didn't even feel like I was reading.
Okay, so this isn't a paid promotion for Audible, though I do recommend checking it out if you're interested in listening to audiobooks. It's just one of the apps I've used to listen to audiobooks. I also use my local library, especially when I don't feel like spending money on a book and they have it in their catalog.
This is just a short list of the audiobooks that I want to get to this year; they're a few that I have on my wishlist or ones that are my top audiobooks I want to get to at some point this year. This isn't a complete list; I'm sure there are so many others that I want to get to.
And I know it's already March, and I've already gotten some of these read, but I wanted to create a list to look back on so I can hold myself accountable.
The Wicked King by Holly Black is the second book after The Cruel Prince. I listened to that book last year, and really enjoyed it. It followed a girl, Jude, and her two sisters who was stolen away to live in the treacherous High Court of Faerie. She wants to belong at the court, even though she is human. As she becomes more involved in the palace intrigues and deceptions, she discovers her capacity for trickery and bloodshed. But as betrayal threatens to drown the Courts of Faerie in violence, Jude will need to risk her life in a dangerous alliance to save her sisters, and Faerie itself. It was a fast-paced, action-packed first book to the series, and I have been waiting to dive into the sequel since it came out in January 2019.
Winter by Marissa Meyer is the fourth book in the Lunar Chronicles. I have slowly been making my way through this series, and I'm really looking forward to getting to this installment. The first book, Cinder, is a retelling of Cinderella, where Cinder is a cyborg. Each book in the series follows her in her escape from danger; each book is a retelling of a fairy tale. Scarlet is the retelling of Little Red Riding Hood and Cress is the retelling of Rapunzel. This one is a retelling of Snow White. Seige and Storm by Leigh Bardugo Spinning Silver by Naomi Novik
On the Come Up by Angie Thomas is Angie Thomas' second book released. Her debut novel, The Hate U Give was released in 2017, and quickly became a NY Times Bestseller. It also got the National Book Awards in 2017 for Young People's Literature. And for good reason; that book was heartbreaking, and an absolutely necessary book to read. And if possible, listened to on audiobook because it was an amazing reading experience.
On the Come Upis one that I have been looking forward to reading since it came out in February of this year. These two books aren't connected in any way, so you wouldn't have to read one in order to read the other, but I definitely recommend reading Thomas' debut novel. From what I can tell, On the Come Up is about a girl who wants to become the greatest rapper of all time, and has some pretty big shoes to fill since her dad was an underground rap legend.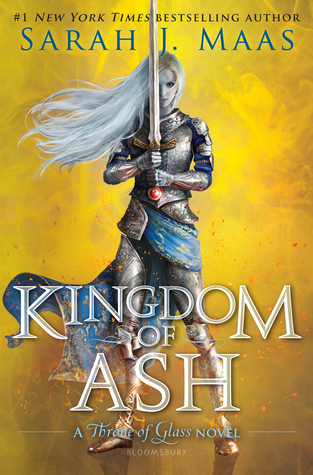 Kingdom of Ash by Sarah J. Maas is one that I should have gotten to a long time ago. It's the 6th and final book in the Throne of Glass series, which is essentially about a female assassin. It came out in September of 2018, and I have had it on my TBR shelf since then. Not only do I have the audiobook, but I also have the physical book. The thing that is keeping me from picking this book up is the size of it. It's nearly 1,000 pages, which translates to over 30 hours for the audiobook. So I know if I start it, I have to invest a lot of time in it. It's also the finale, so I've kind of been putting it off because I don't want the series to end.
Like I said, this isn't the complete list of audiobooks I want to get to this year, but a few of the main ones. I'm sure there are more that I'll probably listen to even though they're not listed here.
What are some books that you want to get to this year? Do you listen to audiobooks? Which ones are your favorites? I'd love to know in the comments below.